Join a Gym Today and Feel Inspired
It'd wrong to think gyms to be time consuming. They are not. Rather, they are one of the best places to be as they keep you fit and deliver a lot of health benefits. How can you consider gyms to be needless expense when they help you in so many ways? They are actually one of the best investments you would every make. Yes, they are. They help you understand the true meaning of life; they let you relish real essences of life. They keep you fit and only a fit individual can lead a happy and contended life.
Many people won't think twice before spending lavishly on new clothes and vacations but when it comes to gyms, they become sort of reckless. They are pretty fine with their daily jogging at the park or running around the garden outside. Ask them to join a gym and they will sneer at you as if you have asked any special privilege from them. They think that lifting dumb bells at home is all what they need to stay fit for rest of their life. They are wrong, as it won't suffice. They have to do more to gain total fitness and holistic health.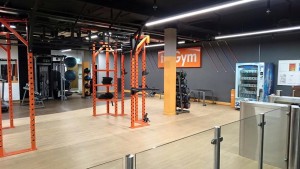 Joining a gym is much more than just toning and sculpting the body; it's about getting an inspiration from others out there and understanding the true meaning of fitness and health. A gym is a place where one meets new people, know their commitment to fitness and health and become familiar with the zeal of health-conscious and fitness-minded freaks. Gyms are a place where a lot people do workouts to not only shape their body but also to make good lifestyle choices. After all, health is considered the biggest wealth and those who know it, try their best to remain as healthy as possible.
Gyms today are not what they used to be as they have changed a lot with the changing of tastes and preferences of the people around. They no longer give total focus to the physical part of the body alone. For them, bringing benefits to the body and mind together is now the foremost priority. This is why they run a variety of classes, including yoga, Zumba, Pilates and tabata to deliver health benefits in varied shades. Gyms today understand the value of providing a stimulating and fun environment so that people can do workouts together with enjoying every minute of their stay.
In a sense, you should not take gyms lightly as they are a place where people go and gain holistic health. You can join one of best gyms around and feel the difference. You can extend the life expectancy and learn a lesson or two about the true meaning of life. You can stay fit and enjoy all the riches a life has to offer. All you need to do is to take some time out on a daily basis and show some commitment. So, take a gym membership today and take a giant step towards attaining total fitness.