The Palatial Palaces of Nawalgarh You Must Visit
The palaces and havelis of Rajasthan truly signify the royal essence of this heritage state. Nawalgarh, one of the quietest little cities of Northern Rajasthan is a place which bears the true cultural heritage of Rajasthan with the astounding havelis that can be found here. The havelis of Nawalgarh will make you come time and again to this place, that's for sure.
If you are planning a trip to Nawalgarh, don't worry. Starting from cheap hotels in Rajasthan, you will find hotels of variant tariffs in this area. Here are some of the incredibly beautiful havelis of Nawalgarh that are a must visit for you. Read on.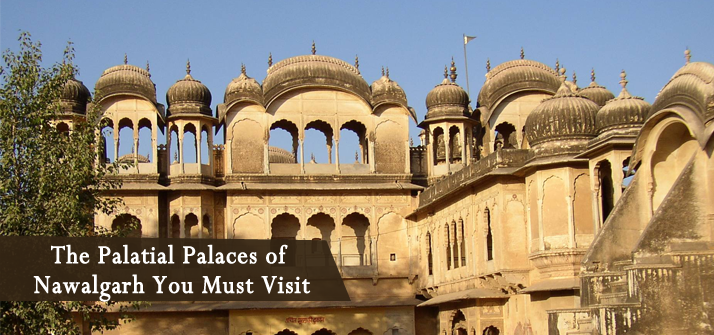 Nawalgarh Fort:

The Nawalgarh fort was founded by Thakur Nawal Singh in the late 18

th

century. The fort is otherwise known as Bala Kila. Though a large portion of the fort is bow being used for modern purposes, you will get to see the incredible works of Rajasthani artists on the fort's wall. Nawalgarh fort is located at the heart of the town.

Sheesh Mahal

: Inside Nawalgarh Fort, there is a room called Sheesh Mahal. Sheesh is glass in English. The whole room is surrounded by glass painting and glass. It is said that this room was used by the Maharani of Nawalgarh as dressing room. Check out the ceiling of the room. It has the intricate map of Jaipur and Nawalgarh painted on it.

Aath Haveli:

Aath Haveli is located near Bala Kila and is a conglomeration of eight separated mansions together. This palatial palace has its own charm as the frescoed paintings on the walls of this haveli will leave you in awe. Check out the metal fittings of iron and brass of this haveli.

Podar Haveli:

It is the only haveli in the whole Shekhawati region which has been refurbished by its owner. Some parts of this haveli has been transformed into a museum where you will get to see many fine paintings that boast of true Rajasthani art. This haveli houses a school but do check out this place for the important paintings that are stored here.

Morarka Haveli:

Another most beautiful haveli of Nawalgarh is Morarka Haveli. Before you enter, check out the grand entrance and the intricate carvings on the body of the gate. Morarka haveli has its own charm as the bright coloured paintings and the unique fresco works on its wall could be a photographer's delight.

Bhagton ki Chhoti haveli:

Located at the end of a narrow lane, off the main market of Nawalgarh city, this haveli is another most important haveli which will make you fall for this. The wall arts of this haveli is interesting as both the Indians and the Britons are depicted here. It is the most compact and most richly crafted havelis of all the palatial palaces of Nawalgarh.
Apart from ordinary hotels, you can also opt for staying in a heritage hotel. Hotels like Koolwal Kothi hotel Nawalgarh could make you relive the former glory of Nawalgarh!




Save