Make Parties for Kids a Memorable Event With Trampolining
It's never easy to get a perfect party idea. The task gets tougher when the party is for kids. Parents find it hard to select a right venue or a perfect idea to celebrate birthdays of their kids.
Things however are changing these days as more parties are now hosted at a trampoline park. With trampolining, guests can get magical moments and enjoy unique experiences. It can also give your kids a truly memorable party.
So, hosting a party at a trampoline park is a great idea as it gives guests an opportunity to engage in a variety of unique and energetic activities. Such parties give kids all those freedom kids never get at home.
The best part, such parties are extremely safe for kids as trampolines will be there all around. That's why parents don't mind taking their kids where the soft surface beneath takes away all risks to the body.
A trampoline-based party for kids will be unique in many ways, including:
Kids will get two of their most favourite pastimes – partying and trampolining.
They get to try out any variation of jumping or bouncing off the wall as the soft surface of trampolines allows this kind of privilege.
The party will have equal amount of time devoted to partying activities and trampoline fun.
Guests will get a chance to engage in a jump session and the food time often follows afterwards.
A dedicated party area on a mezzanine floor will give ample of space to dance, hop and make revelry, although of the controlled variety.
Hosts can also book a private VIP area downstairs at an additional cost to add more fun to the party.
Guests can explore all the amenities at the arena and do all sorts of fun activities trampoline makes possible.
The park can also arrange exclusive dodgeball games to add more weight to the party and to give more fun-filled moments to guests.
Guests can get to relish a variety of special food items including gourmet ice cream, popcorn, fresh fruit and more.
Guests are encouraged to bring own cake and party bags although the park does provide candles and caps for the party.
Kids and adults alike get a fixed schedule to enjoy all activities including free jump, tumble tracks, free jump, and much more.
Bottled water is provided to all those guests who go for jumping or while they jump.
Guests can also get to relish Mom's hot dogs served in a brioche bun
There will be no restriction on squash and water with the food.
The park will arrange cups, socks, plates, napkins and plastic ware and that too, according to the theme of the party or as per the choice told by the birthday boy or girl.
The park does all the party setup and clean-up and the host needn't bother a bit.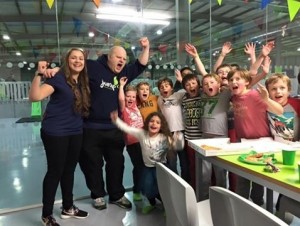 In overall, hosting a kids parties at a trampoline park means giving unlimited fun and entertainment to your guests. Parents should not delay all those pleasures kids are desperate to get at their birthday party. So, take the party where it delivers the maximum joy.